The local bourse took a leaf from the gains recorded in mainland China stocks as it closed firmer on Wednesday.
Equities in China were buoyed by news that it was planning to propel its economy through billions of dollars in tax cuts and infrastructure spending, in order to boost its economy which is growing at its slowest rate in 3 decades. The Shanghai Composite Index closed 0.84% firmer despite having surged by more than 1.5% earlier, while the Hang Seng inched up 0.26%. On the contrary, the Nikkei traded mostly weaker eventually closing the day down 0.6%.
The rand remains relatively weaker against the greenback as the latter has recorded 5 consecutive sessions of gains. The rand weakened to a session low of R14.23 before it was recorded at R14.21/$, down 0.31% on the day.
On the JSE, gains were inspired by the index's biggest weighting Naspers [JSE:NPN] which gained 1.91% to close at R3215.34, while its recent spinoff Multichoice [JSE:MCG] rallied 9.29% to close at R102.00. Accelerate Property Fund [JSE:ARL] recouped some of the prior session's losses as it gained 4.76% to close at R3.30. African Rainbow Capital Investments [JSE:AIL] managed to post gains of 4.62% to end the day at R4.76, while Stadio Holdings [JSE:SDO] firmed by 5.14% to close at R3.89. British American Tobacco [JSE:BTI] surged after news that the head of the US Food and Drug Administration (FDA) had resigned. With the agency's proposal to ban menthol cigarettes, this resignation brought speculation that the agency might not pursue the action aggressively. The stock eventually closed 5.39% firmer at R565.00. Grindrod Ltd [JSE:GND] was boosted by the release of an impressive set of full-year results which saw the stock add 1.31% to close at R8.50.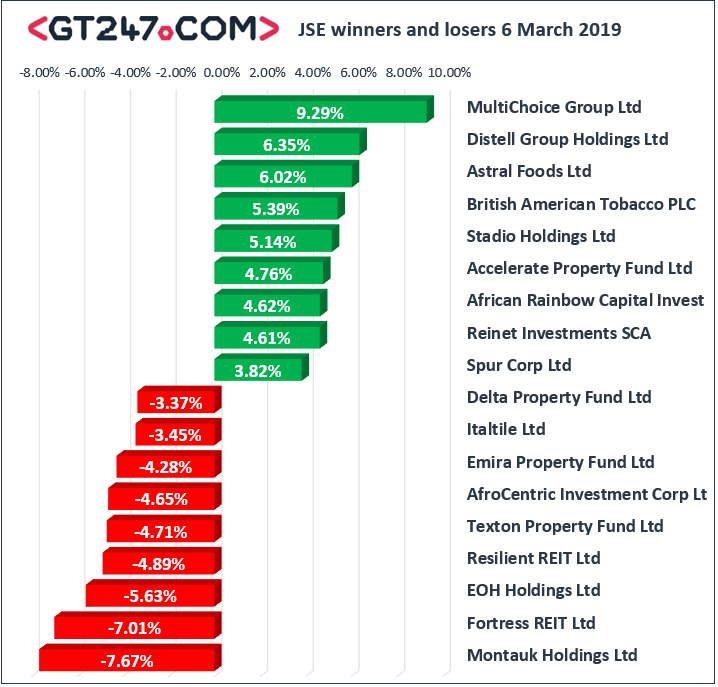 Listed property stocks closed amongst the day's biggest losers after most of them managed to record gains in the previous session. Fortress REIT [JSE:FFB] lost 7.01% to R12.60, Texton Property Fund [JSE:TEX] dropped 4.71% to R4.05, and Resilient [JSE:RES] closed 4.89% lower at R59.50. African Oxygen Ltd [JSE:AFX] came under pressure following the release of its full-year results which indicated a decrease in earnings for the period. The stock fell 3.35% to close at R24.50. Clicks [JSE:CLS] dropped 2.38% as it closed at R180.12, while Blue Label Telecoms [JSE:BLU] lost 1.58% to close at R3.74.
The JSE All-Share index closed 0.42% firmer, while the broader JSE Top-40 index gained 0.58%. In today's session all the major indices managed to close firmer. The Industrials index gained 0.72%, while the Resources and Financials indices gained 0.39% and 0.19% respectively.
Brent crude traded mostly softer on the day as it fell to a session low of $65.22/barrel. It had recovered marginally to trade 0.44% weaker at $65.57/barrel just after the JSE close.
At 17.00 CAT, Gold was down 0.15% at $1286.11/Oz, Palladium was 0.06% weaker at $1518.21/Oz, and Platinum was down 0.88% at $830.21/Oz.