The JSE started the week on the front foot as it closed firmer mainly on the back of positive sentiment emanating from Asian markets.
Asian markets rallied on the back of regulatory intervention to stimulate the Chinese economy and financial markets following weaker readings of GDP numbers released on Friday. The mainland Chinese benchmark recorded one of its biggest intra-day gains in 3 years to close the day up 4.32%, while the Hang Seng firmed by 2.32%. The Nikkei barely eked out gains of 0.37% despite the rallies recorded in the other two main Asian indices.
Retailers led gains on the blue-chip index as the rand advanced from its Friday's close. Truworths [JSE:TRU] gained 2.81% to end the day at R81.27, while Woolworths [JSE:WHL] firmed by 1.8% to close at R48.53. Discovery Limited [JSE:DSY] added 1.21% to close at R153.65, and Sanlam [JSE:SLM] managed to post gains of 0.75% to end the day at R72.30. Naspers [JSE:NPN] was buoyed by the rally recorded in Tencent Holdings, which resulted in the JSE listing gaining 3.2% to close at R2810.00.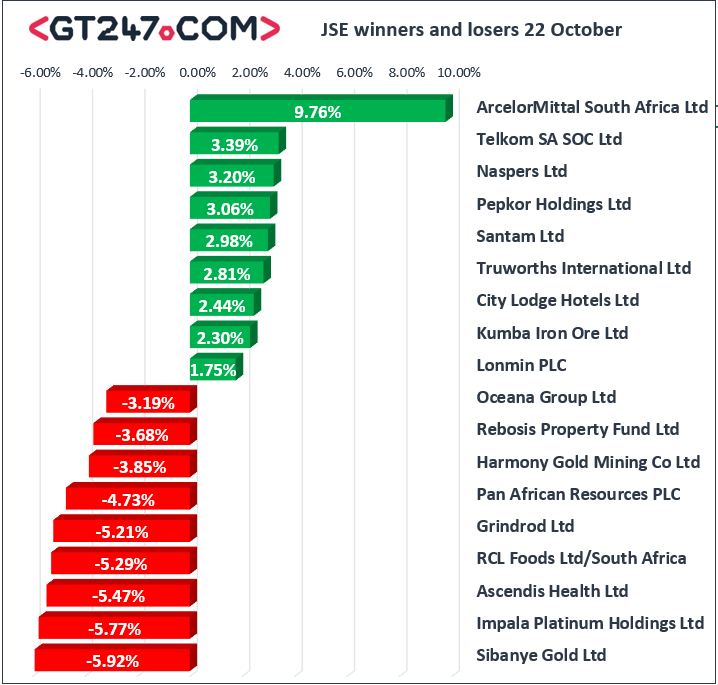 On the broader index, ArcelorMittal [JSE:ACL] rallied following news of the potential disposal of assets in Romania, Czech Republic, Italy and Macedonia to a third party. The stock jumped 9.76% to close at R3.60 per share. African Rainbow Minerals [JSE:ARI] added 1.95% to close at R126.60, while Telkom [JSE:TKG] rose to close at R52.80 after adding 3.39%.
Sibanye Stillwater [JSE:SGL] came under significant pressure to end amongst the day's biggest losers after dropping 5.92% to close at R10.49. Royal Bafokeng Platinum [JSE:RBP] retreated to close at R27.35 after shedding 2.32%, while fellow platinum miner, Impala Platinum [JSE:IMP] lost 5.77% to close at R24.18. Harmony Gold [JSE:HAR] lost 3.85% to close at R28.75. Rand hedge, Mondi PLC [JSE:MNP] weakened by 2.66% to close at R334.00, whilst Sappi [JSE:SAP] pulled back to end the day 1.94% weaker at R77.95 per share.
After a slight wobble, the JSE All-Share index eventually closed the day 0.21% firmer, while the blue-chip JSE Top-40 index inched up 0.3%. The Industrial index was the main catalyst of the day's gains after rising 1.15%. The Resources and Financials indices retreated by 1.19% and 0.09% respectively.
On the currency market, the rand traded mostly firmer against the greenback as it managed to reach a session high of R14.25/$. At 17.00 CAT, the rand was trading 0.93% firmer at R14.27/$.
Gold failed to hold on to its gains as the US dollar advanced marginally against a basket of major currencies. At 17.00 CAT, the precious metal was trading 0.41% weaker at $1221.43/Oz. Platinum was down 1.33% at $819.85/Oz however Palladium had rallied 3.08% to trade at $1116.27/Oz.
Brent crude slipped below $80/barrel to reach a session low of $78.99/barrel as Saudi Arabia pledged to raise its crude production to a record. The commodity was down 0.35% to trade at $79.50/barrel just after the JSE close.
At 17.00 CAT, Bitcoin was down 1.26% to trade at $6564.70/coin and Ethereum had lost 1.76% to trade at $206.37/coin.