The JSE advanced on Friday mainly on the back of broad-based positive sentiment which saw most equity markets trading firmer.
The buoyancy in global stocks was triggered by China's renewed commitment to increase stimulus in its economy. This move is mainly due to the slowdown in China's economic activity which was highlighted by industrial production data which was released on Thursday. Chinese regulators intend to further cut value-added taxes and incentivize Chinese credit providers to extend loans to businesses. The USA released weaker industrial production numbers on Friday, but this did not dampen the mood for the global stocks as they remained upbeat.
Locally, the JSE was lifted mainly by gains which were recorded in the industrials and financials sectors. Pioneer Foods [JSE:PNR] managed to add 8.13% to end the day at R86.50, while Zeder Investments [JSE:ZED] gained 4.62% to end the day at R4.30. Coal miner, Exxaro Resources [JSE:EXX] recorded another session of gains as it climbed 2.14% to end the day at R159.84. Standard Bank [JSE:SBK] posted gains of 2.8% to close at R191.20, FirstRand [JSE:FSR] firmed by 2.43% to R64.05, and Nedbank [JSE:NED] closed 2.86% higher at R261.85. Metair Investments also remained buoyant following the release of its full-year results on Thursday, as it traded mostly firmer before a slump towards the close saw it close only 0.05% firmer at R21.61. Rand hedge, Richemont [JSE:CFR] managed to gain 0.46% as it closed at R104.03, while Bid Corporation [JSE:BID] closed at R294.00 after posting gains of 2.69%.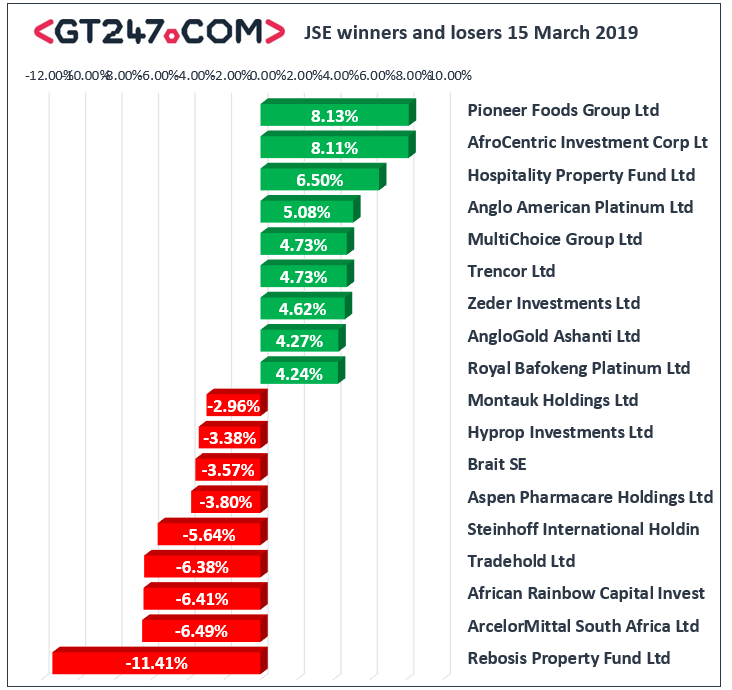 Rebosis Property Fund [JSE:REB] came under pressure as dropped 11.41% to close at R1.63, while Fortress REIT [JSE:FFB] lost 1.51% to end the day at R11.78. Aspen [JSE:APN] retreated to close at R97.64 after it fell 3.8%, while Brait [JSE:BAT] lost 3.57% to close at R24.60. Retailer, Massmart Holdings [JSE:MSM] also struggled on the day as it dropped 2.54% to close at R87.71, while Sasol [JSE:SOL] closed 2.88% weaker at R424.17. Gold miner, Gold Fields [JSE:GFI] retreated by 0.64% to end the day at R56.15, South32 [JSE:S32] pulled back to close at R38.36 after losing 1.29%.
The JSE All-Share index held on to its gains to close 0.45% firmer, while the JSE Top-40 index added 0.4%. The Industrials and Financials indices managed to gain 0.47% and 1.68% respectively, but the Resources index was softer as it eventually closed 0.59% weaker.
The rand advanced on the day mainly due to the weakness recorded in the US dollar as US treasuries rose. The local currency was 0.87% firmer to trade at R14.41/$ at 17.00 CAT.
Despite trading mostly flat earlier, brent crude came under pressure in the afternoon session as it fell to a session low of $66.13/barrel. The commodity was trading 1% weaker at $66.56/barrel just after the JSE close.
At 17.00 CAT, Gold was up 0.57% to close at $1303.52/Oz, Palladium was up 0.13% to trade at $1555.19/Oz, and Platinum was 0.88% firmer at $831.78/Oz.