Local
The JSE declines across the board along with global markets, as selloff continues amid investor caution and profit taking. Our All-Share index closed down by 2.17%, matched by the blue-chip Top40 down 2.25% and industrials down by 2.21%.
Financials continued to trade lower, down by 1.99% after a volatile day for Capitec [JSE:CPI] and PSG Group [JSE:PSG], who managed to claw back some of the losses they experienced after the Viceroy report on SA's fourth biggest bank was released, both closed down by 2.96% and 7.01% respectively.
Resource shed 2.47%, while Gold miners bore the brunt, down 4.21% with Gold Fields [JSE:GFI] and Harmony Gold [JSE:HAR] % the big losers down on the day.
Elsewhere, Aspen Pharmacare Holdings [JSE:APN] pushed higher, up 6.33% while Eskom results revealed a 34% decline in SOE's interim profits. More bad news for Steinhoff International Holdings N.V. [JSE:SNH] after the company released a SENS announcement stating it would miss the January 31st deadline to publish its consolidated financial statements, the share closed down by 11.11%.
The rand weakened against major currencies, trading at R11.97 to the dollar, R16.91 to the pound and R14.89 to the euro.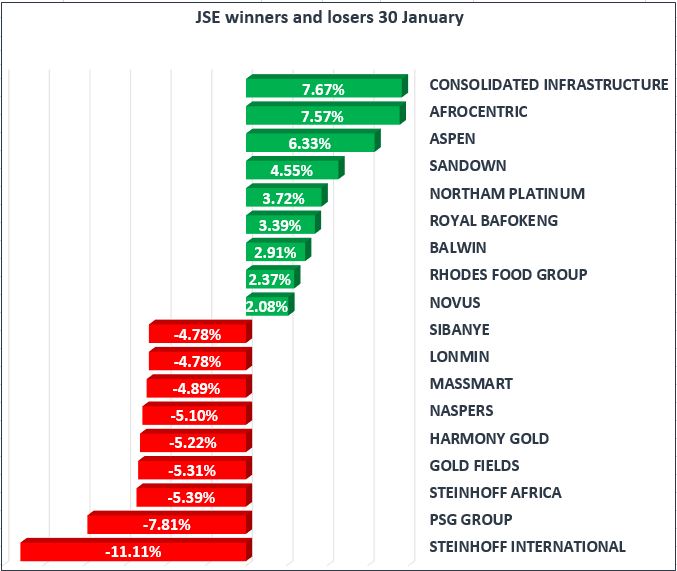 Commodities
Gold prices was up slightly, trading at $1348.10 per ounce as investors look to Janet Yellen's final policy meeting as U.S. Fed Chair and expectations that there will be no change the interest rate.
Silver was trading up at $17.21 per troy ounce, while Platinum continued to ease, trading at $1,004.10 per troy ounce.
Oil prices declined further with Brent Crude currently trading at $68.56/bbl and WTI trading at $64.17/bbl.
Global Stocks
Asian shares retreated following yesterday's sharp decline in the U.S. after the yield on the 10-year Treasury bond rose above 2.7%, its highest levels since April 2014. China's Shanghai Composite was down by 0.99% and Japan's Nikkei down 1.43%.
While European markets followed suit, with the CAC-40 down by 0.87% and the DAX down by 0.99% ahead of tomorrow's economic data on the core euro-zone inflation. While in the U.K., the FTSE was down 0.97% after forecasts on the effect of Brexit were leaked highlighting the negative affect on economic growth.
We saw U.S. equities opened sharply lower, down by over 1% ahead of President Donald Trump's state of the nation address, where market participants are looking for anything further he might have to say about the dollar and his much-anticipated infrastructure plan.
Cryptocurrencies
Bitcoin and Ethereum decline by 7.46% and 6.10% respectively in subdued trading as the industry faces the threat of heightened global regulation.