Global stocks plummeted on Monday after brent crude recorded its worst fall since the Gulf war in 1991.
The fall in brent crude was triggered by news that the OPEC and Russia had failed to agree to production cuts on Friday last week. In retaliation, Saudi Arabia cut its official prices sending oil prices which were already reeling from the impacts of the coronavirus into a freefall. An increasing number of coronavirus infections outside of China also sparked deeper fears in investors as they sort of safe havens such as government bonds. Trading halts were triggered on the S&P500 and Dow Jones equity futures after they reached their down limits.
The flight to government bonds was evident in US Treasury yields which slipped to fresh all-time lows, while stocks continued to fall across all the major indices. The US dollar is increasingly becoming a safe haven as evidenced by the sell-off of emerging market currencies in favour of the greenback. The local currency tumbled as low as R16.97/$ before it rebounded strongly to be recorded trading 1.84% weaker at R15.94/$ at 17.00 CAT.
On the JSE, oil and gas producer Sasol [JSE:SOL] grabbed headlines after it plummeted 50% to a session low of R79.00. The stock eventually closed 46.56% lower at R85.35. Other stocks with oil as a revenue component dropped by double-digits percentage points on the day. BHP Group [JSE:BHP] lost 15.58% to close at R232.71, Glencore [JSE:GLN] lost 11.38% to close at R32.02, while Anglo American PLC [JSE:AGL] closed at R313.76 after losing 9.06%. Platinum miner, Northam Platinum [JSE:NHM] tumbled 15.29% to close at R114.36, while Impala Platinum [JSE:IMP] dropped 15.01% to close at R119.84. Telecoms provider, MTN Group [JSE:MTN] lost 15.1% to close at R64.95, while Nampak [JSE:NPK] fell 14.48% to close at R2.48.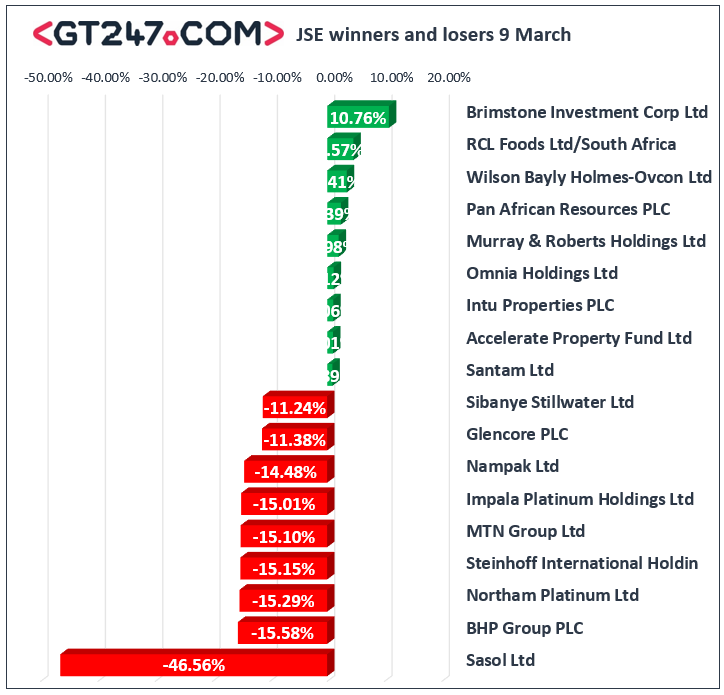 Only a handful of stocks recorded gains on the day. Brimstone [JSE:BRN] closed amongst the day's biggest gainers albeit on thin volumes, as it rallied 10.76% to close at R7.00. RCL Foods [JSE:RCL] managed to gain 4.57% to close at R11.90, while WBHO [JSE:WBO] added 3.41% to close at R94.90. Gains were also recorded for Pan African Resources [JSE:PAN] which added 2.39% to close at R2.57, Intu Properties [JSE:ITU] which firmed 1.06% to close at R0.95, while Accelerate Property Fund [JSE:APF] closed at R1.00 after rising 1.01%.
The JSE Top-40 index eventually closed 6.57% lower while the broader JSE All-Share index lost 6.23%. The Resources index was the biggest casualty of the day as it lost 12.01%, while the Industrials and Financials indices lost 3.9% and 4.37% respectively.
Brent crude was trading 18.86% lower at $36.73/barrel just after the JSE close.
At 17.00 CAT, Palladium was down 3.69% to trade at $2488.71/Oz, Platinum was 4.15% lower at $867.73/Oz, while Gold was only 0.06% softer at $1673.47/Oz.
---
Disclaimer:
Any opinions, news, research, reports, analyses, prices, or other information contained within this research is provided by GT247.com at GT247 (Pty) Ltd t/a GT247.com ("GT247.com") as general market commentary, and does not constitute investment advice for the purposes of the Financial Advisory and Intermediary Services Act, 2002. GT247.com does not warrant the correctness, accuracy, timeliness, reliability or completeness of any information which we receive from third party data providers. You must rely solely upon your own judgment in all aspects of your trading decisions and all trades are made at your own risk. GT247.com and any of its employees will not accept any liability for any direct or indirect loss or damage, including without limitation, any loss of profit, which may arise directly or indirectly from use of or reliance on the market commentary. The content contained within is subject to change at any time without notice.