The JSE eased on Tuesday as rand hedges retreated due to the firmer rand
The rand recouped some of its losses following the rebound in the Turkish lira. The local currency managed to strengthen to a session high of R14.02 against the greenback before it retraced to trade at R14.20/$ at 17.00 CAT.
On the JSE, Gold Fields [JSE:GFI] grabbed the headlines following the release of its trading statement. The main highlight was that the company intends to cut 1560 jobs as it seeks to reduce its cost structure in order to improve the business's sustainability. The stock traded under significant pressure as it lost 13.82% to close at R43.62 per share.
Naspers [JSE:NPN] also slipped lower following news which directly impact its Hong Kong associate Tencent Holdings. On the Hang Seng, Tencent Holdings closed 3.43% weaker following the ban imposed on one of its games by Chinese regulators. This resulted in Naspers trading softer on the JSE, eventually closing the day 2.06% weaker at R3335.00 per share.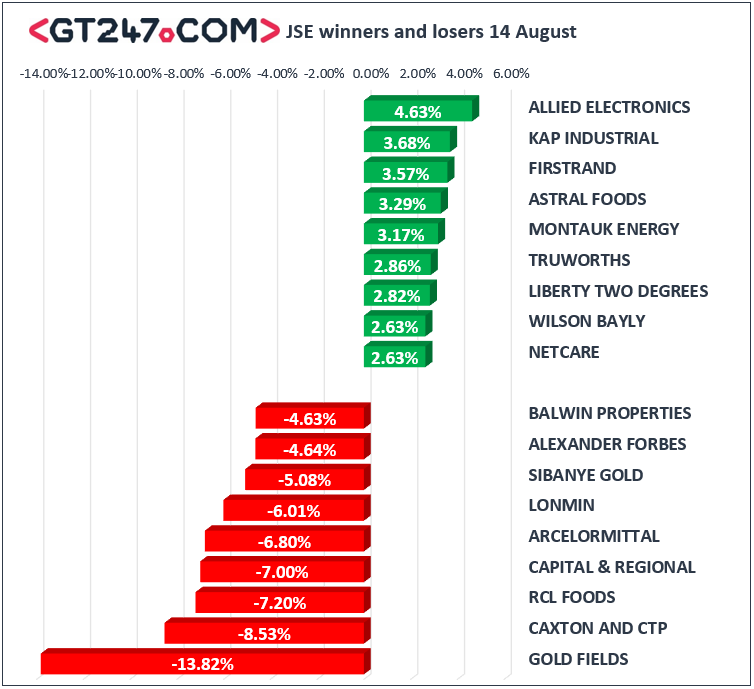 Other blue-chip stocks such as Anglo American PLC [JSE:AGL] lost 2.95% to close at R298.44, while Richemont [JSE:CFR] pulled back to R123.36 per share after shedding 0.52%. Sasol [JSE:SOL] eased to R523.60 per share after dropping 1.6% and British American Tobacco [JSE:BTI] was 0.16% softer to close at R754.61.
On the day's gainers, KAP Industrial Holdings [JSE:KAP] was buoyed by the release of its full-year results which showed decent increases in revenue and profit. The stock managed to gain 3.68% to close at R7.33 per share. Financials rose on the back of the firmer rand which saw banks such as FirstRand rally to R65.30 per share after adding 3.57%, whilst Nedbank [JSE:NED] posted gains of 1.88% to close at R263.83 per share.
Retailers also got a lift with Truworths [JSE:TRU] adding 2.86% to close at R81.91, whilst Mr Price [JSE:MRP] picked up 2.16% to close at R225.75 per share. Aspen [JSE:APN] firmed to R264.00 after adding 1.93%, whilst Sappi [JSE:SAP] rebounded to close at R92.77 after adding 1.61%.
The JSE All-Share index eventually closed 0.48% lower, whilst the JSE Top-40 index weakened by 0.52%. The Financials index was the only major index to close in the green after picking up 1.06%. The Resources and Industrials indices lost 1.45% and 0.62% respectively.
Gold traded mildly softer on the day to eventually trade 0.34% firmer at $1197.74/Oz at 17.00 CAT. Platinum was up 0.28% to trade at $805.61/Oz, while Palladium was up 0.21% at $896.02/Oz.
Brent crude recovered as concerns over a fall in US inventories surfaced. The commodity was 1.29% to trade at $73.55/barrel just after the JSE close.
The slump in the cryptocurrency market ensued which saw Bitcoin down 5.51% to trade at $6001.96/coin at 17.00 CAT, whilst Ethereum was down 18.06% to trade at $253.40/coin. READ LATEST TECHNICALS ON CRYPTO HERE