The JSE closed firmer on Friday as blue-chip stocks and the stronger Rand helped propel the bourse higher.
The Rand strengthened in today's session mainly due to the weakness in the US dollar. After surging above 95.50 index points on Thursday, the US dollar slipped below 95 index points to a session low of 94.43 index points. The Rand peaked at R13.42/$ before it retraced to trade at R13.52/$ at 17.00 CAT.
Rand sensitive stocks rose due to the stronger Rand which resulted in Mr Price [JSE:MRP] gaining 2.3% to close at R232.73 per share. Shoprite [JSE:SHP] added 2.51% to close at R228.60 per share and The Foschini Group [JSE:TFG] gained 3.61% to close at R189.96 per share. Discovery [JSE:DSY] closed at R150.50 per share after adding 5.58% whilst Vodacom [JSE:VOD] gained 2.98% to end the day at R126.82 per share.
Naspers [JSE:NPN] was lifted by the release of its full-year earnings which were positive as estimated in the previous week's trading statement. The stock climbed 3.1% to close at R3307.43 per share.
On the losers list, Stadio Holdings [JSE:SDO] slipped by 1.12% to end the day at R4.40 per share. Platinum miner, Northam Platinum [JSE:NHM] lost 2.24% to close at R34.85 per share as Rand denominated metal prices pulled back, whilst South32 [JSE:S32] was 2.81% softer at R36.35 per share.
Gold miners, Harmony Gold [JSE:HAR] and Gold Fields [JSE:GFI] dropped 1.07% and 1.39% respectively, while listed property stock, Fortress B [JSE:FFB] closed at R14.81 per share after shedding 1.27%.
The JSE All-Share Index closed the day 1.11% firmer, while the blue-chip Top-40 index posted gains of 1.2%. All the major indices managed to close in the green with the biggest gainer being the Industrials index which gained 1.45%. Financials gained 1.22% and the Resources index gained 0.44%. Despite recordings gains today, the JSE All-Share index closed 1.73% weaker for the week.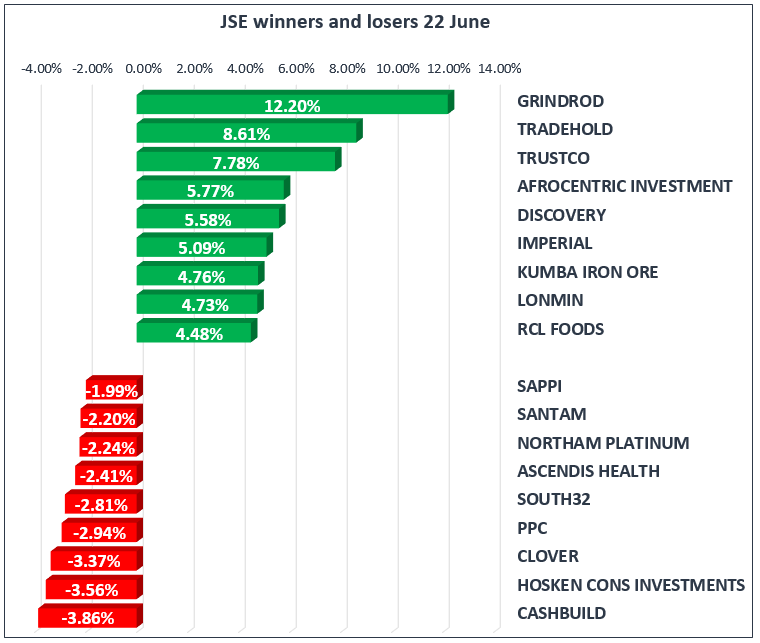 Gold recorded modest gains to peak at a session high of $1271.18/Oz as the US dollar eased. At 17.00 CAT it had retraced marginally to trade at $1269.31/Oz, up 0.2% for the day. Platinum was 0.88% firmer at $871.26/Oz and Palladium was trading at $956.13/Oz, up 0.3% for the day.
Oil advanced to peak at a session high $75.34/barrel after news broke out that OPEC had reached an agreement to increase oil supplies. The commodity was trading 2.19% firmer at $74.65/barrel just after the JSE close.
Cryptocurrencies slumped in today's session as concerns about the instruments security and regulation ignited fresh fears amongst traders. At 17.00 CAT, Ethereum was down 10.43% at $475.28/coin, while Bitcoin was down 8.24% at $6177.60/coin.