Morning Market Scoop 8 March 2019
In our morning market scoop:
US Economic Data - Non-farm Payrolls are usually reported on the first Friday of the month, whereby the number of additional jobs added from the previous month is release.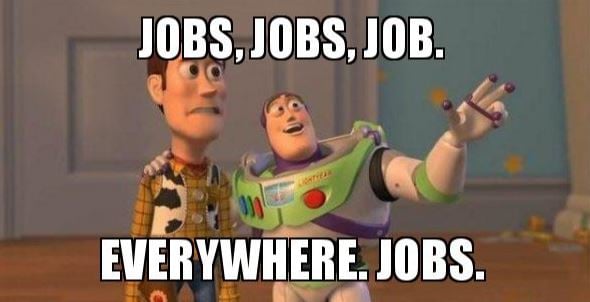 "JOBS! JOBS! JOBS!"
What's the scoop? U.S Non-Farm Payrolls (NFP)
The long awaited U.S. Non-Farm Payrolls (NFP) report, also known as the "Super Bowl" of trading days for many market participants will be released later today at 15:30 SAST.
The Jobs number is important to watch because it is treated as an economic indicator for people employed during the previous month and the number being released will have a direct impact on the markets.
The big picture – Looking at the ADP Non-farm Employment Change released on Wednesday, the change in private employment came in lower than expected at 183K jobs for the month of February 2019. The ADP number came in lower than analyst's predictions for the first time this year and it might just be an indication of what's instore for NFP later today. The Non-Farm Payrolls report (NFP) will give an indication as to whether the U.S Economy and its labour force is still growing at a strong pace or in fact slowing down as many might believe.
In the United States consumer spending accounts for most of the economic activity and the Non-Farm Payrolls report represents 80% of the U.S workforce.
The Federal Reserve's Federal Open Market Committee (FOMC) will also be watching the data closely and keeping an eye on its inflation (CPI) targets.
Traditionally an increase in labour should contribute to increased consumer spending and in turn increase inflation (CPI). Which in turn might prompt the FED to start looking at raising interest rates.
Take note the markets will react to the data being released later today.
Notable companies reporting earnings are:
United States: Allogene Therapeutics Inc (ALLO), Big Lots Inc (BIG), Daseke Inc (DSKE)
South Africa: MMI Holdings (MMI)
What does all this mean for me?
The Non-Farm Payrolls report is a market moving event which will be watched closely as the Jobs data might give an indication of the U.S FOMC trajectory for rate hikes moving forward in 2019.
Just in case you missed the U.S Non-Farm payrolls(NPF) research note release. Click in the image below👇.