Morning Market Mini U.S ADP Non-Farm Employment Scoop 7 March 2019
What's the scoop? U.S ADP Non-Farm Employment Change
As the dismal Trade Balance Economic data flow through, President Trump has called for the trade negotiations to reach a deal soon as he is calling for stronger U.S Market going forward.
Yesterday saw the biggest drop in trade in 4 years as the trade balance deficit came in worse than expected at -59.80B.
All eyes will be fixed on the Jobs report this Friday and if the ADP Non-Farm Employment is anything to go by we might just get another surprise.
The big picture – The U.S. ADP Non-farm Employment Change is a very good predictor of the Non-Farm Payrolls report as the ADP Non-Farm Employment Change measures the monthly change in non-farm, private employment. The U.S. ADP Nonfarm Employment Change is released two days ahead of the NFP jobs number. The ADP number was released yesterday at 15:15 SAST.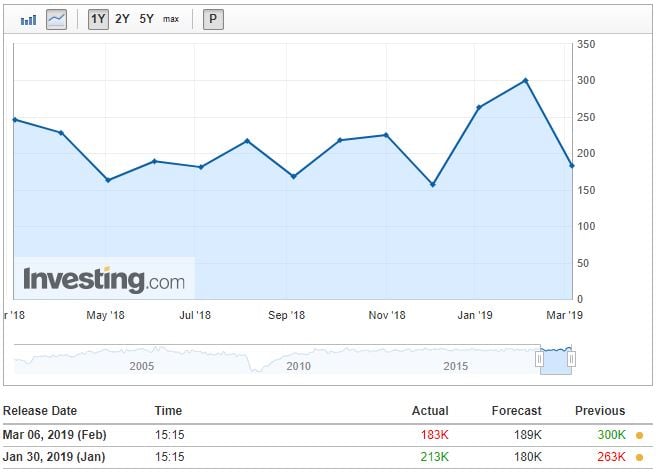 Source: Investing.com
The change in private employment came in slightly lower at 183Kfrom the expected forecast number of 189K for the month of February 2019. All eyes will look to tomorrows comprehensive Non-Farm Payrolls report (NFP), especially the wage growth
Notable companies reporting earnings are:
United States: Costco Wholesale Corp (COST),
South Africa: Aspen Pharmacare (APN), MTN Group (MTN) and RMB Holdings (RMH)
What does all this mean for me?
From the Trade Balance data which came through yesterday we can see that the after effects from the trade war might be taking effect. A slowing U.S economy is of concern as the after effect will run through the rest of the world.