Morning Market Scoop 7 February 2019
In our morning market scoop:
The Monetary Policy Committee (MPC) of the Bank of England is expected to keep the monetary policy unchanged just as it did back in November and December last year with the Interest rate at 0.75%.

"Decisions, Decisions"
What's the scoop? U.K Interest rate Decision
Yet another day filled to the brim with economic data as the Bank of England (BOE) monetary policy committee (MPC) will be announcing their interest rate decision today at.
The MPC is expected to be cautious in its decisions making under current market conditions and is expected to keep the interest rate unchanged later today at 14:00 SAST.
The big picture – Bank of England's Governor Mark Carney and MPC members will be taking the stage to give some guidance on where the British economy is headed. The economy has been feeling the pressure of late as we have seen recent PMI economic data disappoint, the Pound (GBP) under pressure over the last month. Not to forget, Brexit is just around the corner with no exit plan insight the MPC is set to tread lightly.
Looking at the 4H chart of the GBPUSD currency pair we can see the price action is losing stream and has been trending lower over the last two weeks. The price is currently consolidating above the 1.29239 support level and might just move lower. If we see the BOE data disappoint then a possible target point lower might be on the cards at 1.28521.
On the flip side we might also see the currency pair move higher back to the top of the descending channel if the data surprises.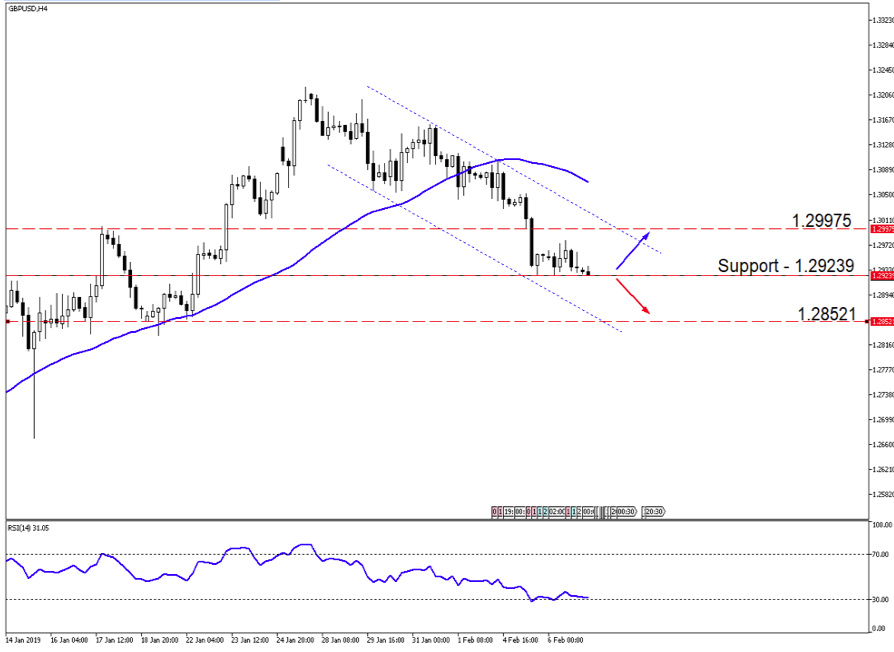 Source – MetaTrader5
What we can look out for later today:
Interest rate: The consensus is that The Bank of England (BOE) will keep interest rates unchanged at 0.75%. Note: If we see the U.K interest rate increase then we can expect the Pound (GBP) to strengthen against all major currencies.

Inflation Report: The Bank of England (BOE) Inflation Report sets out a detailed economic analysis and inflation projection upon which the monetary policy committee (MPC) bases its interest rate decisions. Inflation will be a focal point later today as the latest Consumer Price Index (CPI) number was 2.1% which is a far cry from the 2.3%-2.4% expected rate.
Notable companies reporting earnings are:
ArcelorMittal South Africa Limited (ACL), Sappi Limited (SAP)
What does all this mean for me?
With the current uncertainty to where the British economy is headed the Emerging Markets might just feel the pinch moving forward. More guidance is expected later today from the BOE to plot a direction for the U.K moving forward. The Rand (ZAR) has been gaining momentum over the British Pound (GBP) over the last couple of trading days mostly of the back of a weaker Pound.