In our morning market scoop:
"Fun Friday", Black Friday it is here.
"Fun Monday", you mean Cyber Monday?
"Shopping Extravaganza"
What's the scoop? Black Friday
The madness of Black Friday is upon us once more, I mean really it just seems that those pair of sneakers that I have been looking at never goes on sale! No really!
"Black Friday" has a lot of connotations, usually when calamities occur around the world and it's on a Friday then you guessed it, it's called a 'Black Friday"
The big picture – Thanksgiving Day, a holiday in the U.S falls on the fourth Thursday of November and is regarded as the start of the Christmas shopping season in the States since 1952. Black Friday kicks off the shopping season and is described as the busiest shopping day in the country with billions of dollars in sales.
GT247.com Black Friday
Fund your trading account today by making a deposit and we will match your deposit up to R250!
Terms & Conditions Apply*
"The earliest evidence of the phrase Black Friday applied to the day after Thanksgiving in a shopping context suggests that the term originated in Philadelphia, where it was used to describe the heavy and disruptive pedestrian and vehicle traffic that would occur on the day after Thanksgiving" - Wikipedia
What does all this mean for me?
You will have the opportunity to hopefully get that long awaited purchase that you couldn't afford earlier in the year all from the comfort of your home. Let's look on the bright side if you miss out on Black Friday there is always Cyber Monday to look forward to.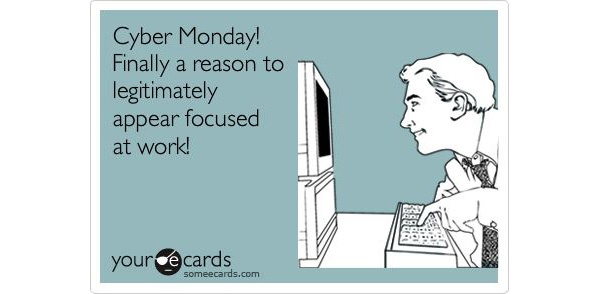 "Don't tell your Boss It's Cyber Monday"
What's the scoop? Employers and Cyber Monday
Let's not forget about Cyber Monday where goods are discounted even further, work gets pushed aside as employees do their shopping online.
The term was first used by Ellen Davis within the ecommerce community back in 2005. The term was coined as research showed that the biggest online shopping day was the Monday after the Thanksgiving Day holiday.
The big picture – In November 2011 it was surveyed that 22% of employers had fired an employee for misuse of company internet resources for non-work-related use. Over 54% of employers have reported to block employees access to certain online shopping websites.
Never the less we can't ignore the numbers and Cyber Monday has some impressive online sales numbers. There has been year on year growth of Cyber Monday online sales since 2007 to 2017 where we saw online sales of over $3 billion up 26% from 2016.
What does all this mean for me?
If you did not get that Gucci handbag or Versace jacket over the weekend, then maybe warn your employer first thing on Monday!
#Trade Wars Tip
Manage your stops into profit!