Morning Market Scoop 19 February 2019
In our morning market scoop: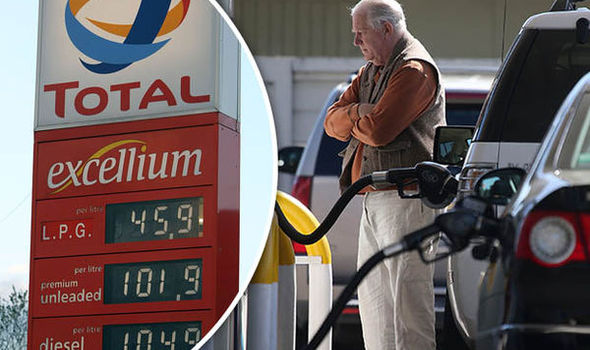 "Kak en Betaal is die Wet van ……."
What's the scoop? The Petrol Price and Brent Crude Oil
Just as South Africans sighed a sigh of relief from the decrease in the price of petrol at the start of 2019, the Automobile Association of South Africa (AA) announced we are set for a March hike.
Some analysts expect a bigger increase in the petrol price for March than the Automobile Association of South Africa (AA) projected. The AA expects the price of petrol to rise by 43 cents/ litre, diesel higher by 62c/l and illuminating paraffin to increase by 47cents/litre.
The big picture – Fuel prices were firmly in the spotlight over 2018 as South African motorists have seen record fuel prices affecting their wallets. Not to mention the increases that we have seen in goods and services affected by the increased fuel prices over the last year. Fuel prices increased from R14.42/litre in March 2018 to R15.24 in December, with a high of R17.08/ litre in November 2018. The bad news was announced by the AA late last week mainly due to a weakening of the local currency and an increase in the international oil prices.
The two main factors to look at that drive an increase in the petrol price would be the strength of the Oil price and weakness of the Rand (ZAR).
Brent Crude Oil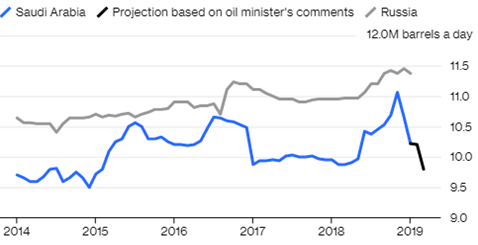 Source – Bloomberg
The Rand (ZAR)
The Rand (ZAR) along with other Emerging Market currencies have been under pressure of late. The local currency depreciated from the R13.20 per Dollar (USD) level at the end of January to over R14.00 against the greenback. The proverbial line in the sand would be around the R13.92 per dollar level when looking at the USDZAR currency pair.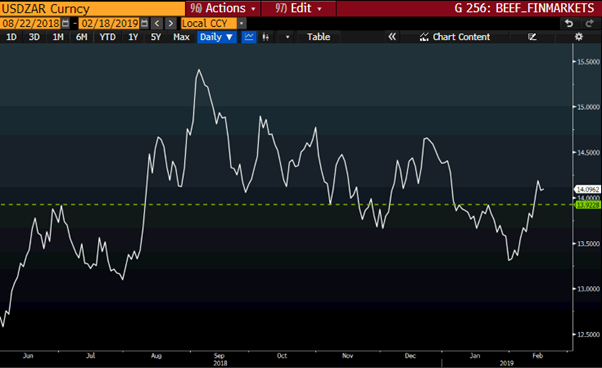 Source – Bloomberg
Notable companies reporting earnings are:
United States: Herballife Nutrition Ltd. (HLF), Tower Semiconductor Ltd (TSEM), US Silica Holdings Inc. (SLCA), Wallmart Inc. (WMT)
UK: BHP Billiton Group (BHPB), HSBC (HSBA)
What does all this mean for me?
If the OPEC countries continue to cut supply to the market, then the price of Oil will continue to rise. It was reported that the Saudi's one of the leading OPEC Oil producers want Oil to trade around $80/ barrel price level. Combined with a Rand that remains under pressure we might just see a return to petrol price increases well beyond March 2019.